Send Inquiry
Embroidered Beaded Bridal Gown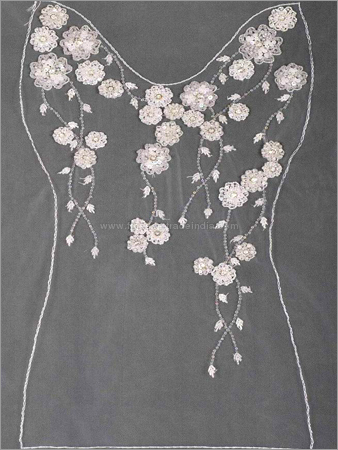 Embroidered Beaded Bridal Gown
Product Code : EBBG - 3025
Embroidered Beaded Bridal Gown
With the firm commitment to quality, we are intended in manufacturing and exporting Embroidered Beaded Bridal Gown. Our range is highly acknowledged for its perfect stitching & fitting, excellent craftsmanship and colorfastness. This beaded gown is designed by our team of dexterous professionals keeping in mind the exact requirements of clients. Advanced stitching tools are used in making these gowns in order to ensure their flawless quality and attractive look. Embroidered Beaded Bridal Gown is designed as per the prevailing fashion trends of the market.
Features :
Smooth texture
Made as per the latest fashion trends
Excellent craftsmanship
Attention to detail
Elite and stylish
Color-fast material
Perfect signature fit
Comfortable to wear
Breathtaking style
Other details:
The picture shows the centre front panel of a gowns bodice.This gown has a design of floral clusters and vines. The flowers have three dimensional centres with a few raised hanging beads and sequin. Swarovski crystals and rhinestones enhance the gown beaded with Japanese and Czech beads. The beading is available in white, ivory, silver or gold colors. The beading is done on net but can be made on any fabric based on the clients requirements. The price for the complete bodice(panels) is USD 125 CIF. These designs are created by Finesse. FINESSE is a family owned company and part of a conglomerate that has interests in textiles, silk yarn and natural stones (granite and marble).